Concept
Over the years we have developed a range of technical services and solutions focused on the honing industry. Our philosophy is to provide products, solutions and comprehensive services. We take your company-specific demands as seriously as we do the development of new products and processes.
Our experienced and knowledgeable professionals are available to provide the solutions you need to exceed your current production expectations. Our strengths are realized while working hand in hand with our customers to help achieve their goals, whether that is process improvements or upgrading your business with cutting edge technology.
Sales Agency for products of:
Degen mechanical Engineering GmbH
PWG precision tool making
Geißler GmbH
HoningDesign Developments:
High speed honing machine "Vision Ultimate"
Bushing honing tools (blind hole and stagger version) - patent pending
Cylindric enlarging honing tool (Wingtype) - patented 
Consultation 
Production planning (Experience, benefit - cost, delays, trouble prevention)
Production and process optimization (utilizing full potential - saving costs)
Capacity increase (capacity increase is often possible without additional investments)
Appeal for help:
Downtime, failure rates, tool costs, conversion processes, overhaul, assisting production, etc. 
Products, solutions and comprehensive services are adapted to the company's demands, just like we do it when developing new products. 
It is our goal to to exceed current production rates
Experienced and skilled experts are availbe to find solutions to improve your production. Process improvement and modern technology are our strengths. 
We work hand in hand with our customers, so that solutions can be found, fitting existing functional and technical demands.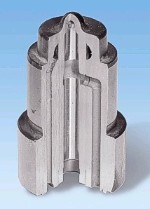 This e-mail address is being protected from spambots. You need JavaScript enabled to view it